Annual Maintenance Support
Annual Maintenance Support is called as Krish "X" Care services in Krish IT terms. All you need to keep your SAP systems run at their best performance. Krish IT propose to deliver the requisite IT Services using our innovative and optimal HYBRID (On Site, Near Shore/Off Site and Off Shore) Delivery model that will deliver the scoped IT services for clients at lower cost. The central theme of our service delivery model is an Integrated Centralized service help desk.
This service desk will become the single point of contact for issues. Krish IT use ITIL and Agile compliant ticketing tool for this service desk. The end users of can log a problem or raise a query through the web, email, visit or phone. All issues will be addressed within the SLAs which would be agreed up on the due diligence phase of the project along with clear service catalog, categories and priority. 
Call handling Methodology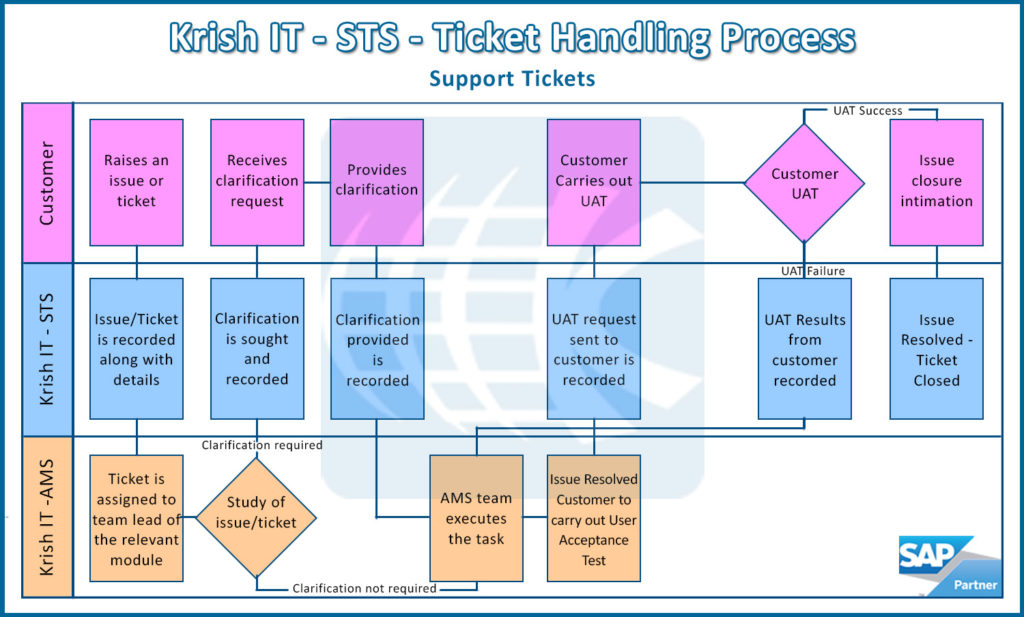 It has its own ticketing tool namely STS (Support Ticketing System) for its AMS customers to record their requirements and issues. STS has been developed in JAVA platform and it is in use for the past 7 years. It is readily available in the URL 'support..in'. Each and every company has its own space in STS and is accessible through dedicated user-ids created by  for relevant company users. 
Some of the salient features of STS are described below:
Program management and governance for this engagement will be delivered through the Program Management Office (PMO).  The role may also be referred to as a CAM (Customer Account Manager).  The  program manager will be assigned to and will be supported by PMO organization to verify that the management practices and methodologies that are implemented at are consistent with  best practices.
The  CAM will provide the management and appropriate support to enable  to:
The communications plan will summarize scheduled communication activities for all program team members. and will mutually agree to the meetings and a detailed communication plan will be developed and documented. The communications plan identifies specific scheduled conference calls, meetings, and calendar of activities.
3. Status Review Meetings
Status Review Meetings will be held to address support project issues.  and  representatives will be required to attend these meetings. The meeting agenda will include:
The  team shall provide with written status reports as mutually agreed. Specific status reports will be provided to accordingly. Where feasible, the reports will be provided electronically. The format shall be mutually agreed upon before the start of the support.
It will implement an escalation plan in order to facilitate the escalation of incidents or issues to the appropriate level of  and/or management for resolution. This plan is specific to the scope of Services that are provided by  and addresses the escalation and communication path for  and Bull Machines, its management, and the support team. is responsible for identifying their initial escalation contacts. 
The escalation matrix is to be completed jointly between  and to assist with identifying resources for specific functions based upon escalation type, timeframe, and Service Level escalation requirements.  This document is a guide to be utilized by  and Management to provide an additional communications path for issues related to performance, scope of Services or contractual issues. 
Communication and Coordination
It will develop a communications plan to address the communication requirements of the engagement during Steady State services. The communications plan will document the information, the format, the distribution list/attendees, and frequency.   and will jointly develop and mutually agree to the communication schedule.  The final communication schedule will be identified during the implementation process.  The meeting schedules will include as a minimum the following:
SLA Measurement & Governance
Support structure and SLA
Service Level Dependencies
The above SLAs are being suggested based on certain factors; following are the dependencies and assumptions:
Failures due to environmental or power non-availability will not be included in downtime calculations attributed to
Change Request Management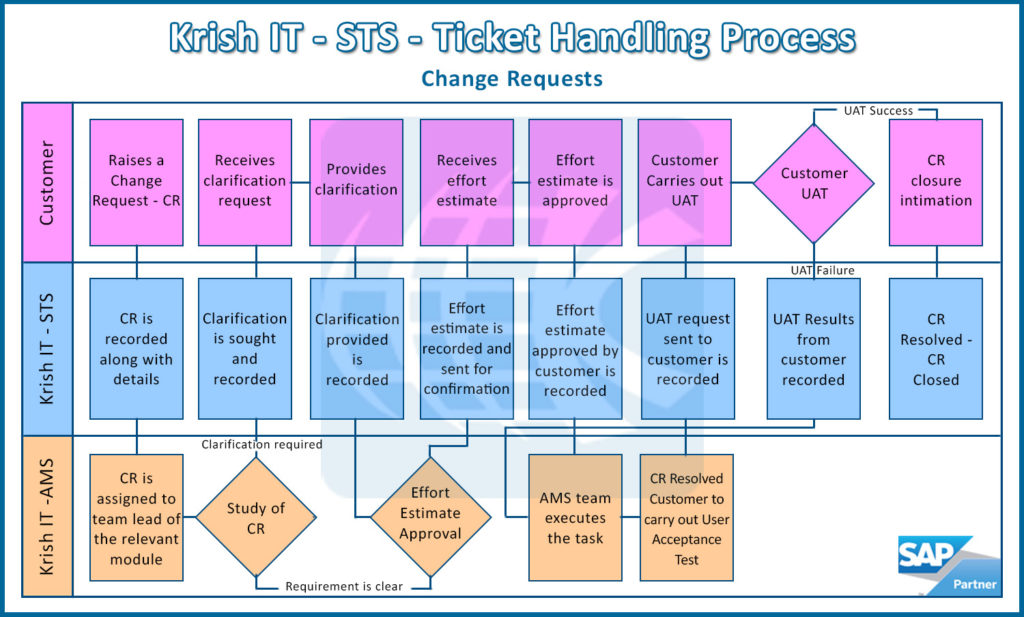 Value Added Services through Custom Application Development and Integration with SAP
It has extensive experience in building applications that integrate well with SAP systems. This involves developing web and mobile applications that integrate with SAP through a middleware service. The applications are developed using some of the industry standard open source language, frameworks and tools.
 has developed several applications, which has helped companies improve efficiency in various functional areas like production, logistics, field staff management, sales and marketing etc.  Additionally, it has helped companies achieve improved transparency and trust among their customers, vendors and suppliers.
Development and Services capabilities
It has extensive experience in building applications using various open source technologies. Some of the key technologies are mentioned here